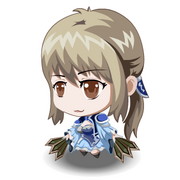 Born in a family of scholars, she was well-educated and reasonable. She advocated frugality and later became the Queen of Emperor Sima Zhao of Jin Dynasty.
Sign: Capricorn
Blood Type: O
Character: Well-educated and reasonable
HP:
Attack:
EX Skill: Eagle's Eye: Attack +5%. Critical Hit Ratio +15%
Ad blocker interference detected!
Wikia is a free-to-use site that makes money from advertising. We have a modified experience for viewers using ad blockers

Wikia is not accessible if you've made further modifications. Remove the custom ad blocker rule(s) and the page will load as expected.