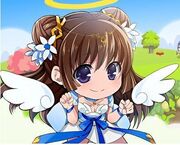 Your trusty servant. Generally she's just there to tell you what quests to do. She is also the avatar for the game's admins. If you ever have a question, ask Meng Meng.
She's usually an NPC, but some events allow you to have a chance of getting her as a golden warrior.
Archer Meng
HP: 
Attack:
EX Skill:
Bamboo Meng (Warrior)
HP: 
Attack:
EX Skill:
Ad blocker interference detected!
Wikia is a free-to-use site that makes money from advertising. We have a modified experience for viewers using ad blockers

Wikia is not accessible if you've made further modifications. Remove the custom ad blocker rule(s) and the page will load as expected.