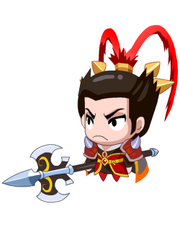 The mightiest warrior in the late Eastern Han Dynasty. He mastered in riding, archery and martial arts. His power was no doubt to be the No.1 among all heroes in his time so that he is still remembered as "The most powerful might warrior of the Three Kingdoms". However, his character was so denounced for he adopted the evil traitor minister Dong Zhuo as his father. After Diao Chan casted the beauty scheme, he fell love with her and turned against his adoptive father Dong Zhuo.
Sign: Sagittarius
Blood Type: AB
Character: Mighty, powerful but snobbish and capricious
RED
HP:
Attack:
GOLD
HP:
Attack:
EX Skill: Invincible: Critical Hit Ratio +10%. Common strike has Sweep Effect, deals 75% of damage to the enemies beside the target.
Ad blocker interference detected!
Wikia is a free-to-use site that makes money from advertising. We have a modified experience for viewers using ad blockers

Wikia is not accessible if you've made further modifications. Remove the custom ad blocker rule(s) and the page will load as expected.